Yes . . .

Do NOT leave anything to the audience's imagination — but amply cater them a photorealistic news-reel

documentary in short "GIF" clips of 100% equal length — carefully set to the pace of narration.

. . . Because that'll result in some deep psychic investment + a faer-ific atmospheanngg

so thick one could make a baloney banquet from it — or somethun'.
The hour of a slightly opposite achievement, for comparison.
" Out of the mouths of babes . . . "
' Come on; seriously! How many ACTUAL shadow-veiled evils unknown

to average Joes could such a DAINTY little golden ring represent . . . '
"Wer-ww" . . . . . Sometimes improving on PJ-fection might not be very laborious.

Unless using that software tool really was, of course.


"Walking in the dark beyond the fir-wood, when the wind's in the West."

A screenshot that no one remembers but one which immediately takes the film closer to the book.
GHAAA! Supporters of the Far-West Elfiarchy!

If you see these near you, be smart like Halfbits here (4 minus 2!) and do not approach. Enchanting and decorational

as they might be. Remember, they promotsss #HateOfOrcs! (and carry throat-sticky foodstuffs).
This forest is not in the movie.

Let's just take the East-West Road! Heroes can't get caught (by anything) this early in the story, anyway.

No "Desert" to represent detachment from comforts . . . or meeting with Mr. & Ms. Singer . . . or glimpses into Elder Days and cosmic secrets . . . or a symbolic death & rebirth . . . or hearing about a War of (how many?) Kings . . .

Silly stuff that would simply leave no time for the quintessential "Ta-tah, Here Come, the Winners" slow-pose . . . — OR those (super) cool Super-Orcs hatched in the goo!
Still, just imagine . . .

PJ actually missed the opportunity to have such a filmography-fitting Loose Skittle-Hand make an appearance.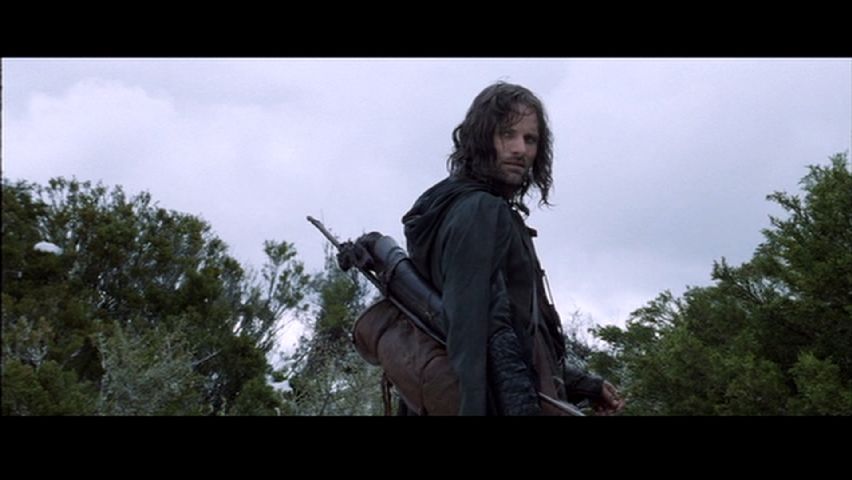 "Bread? For a son who asketh?"

(When one has had years to prepare the script with adult-minded helpers, one

is bound to come up with at least one or two genuinely befitting additions.)
When you've go' ay wizzurd that can manifest things ex nihilo (apparently), there's simply no need

to carry firewood to avoid freezing (the heaving of which would endanger Heroic Appearances).
Hô!

Sore wa fainaru na bosu da!